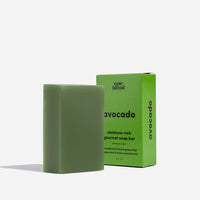 Soap, Face and Body
$7.00
114g / 4oz
Epic Blend is a body-care brand built for the wild, free, and fun.
Bar soap available in various formulations so you can exfoliate, moisturize, energize as needed.
Avocado - head to toe: with a healthy dose of avocado oil as well as soothing French green clay and an extra shot of natural vitamin E for a gentle, antioxidant rich, skintastic little bar of soap. With spearmint and lemon essential oils.
Citrus Mint - charcoal: 

naturally derived soap, naturally hydrating oils, and naturally refreshing scent. Plus a bonus shot of activated charcoal, which binds to dirt and sucks it right out of your pores.

Coconut Cream - made with a trifecta of organic creamed coconut, organic coconut oil, and organic coconut extract you might think you should eat it and not wash with it. But definitely don't eat it, it tastes terrible, because it's soap. Really great smelling, moisturizing soap...but still soap.
Lemongrass - refreshing: natural soap infused with extra coconut and sunflower oils for just the right balance of moisture and soapy goodness…and that super-fresh lemongrass scent! With lemongrass and clary sage essential oils.
M
ade in Canada