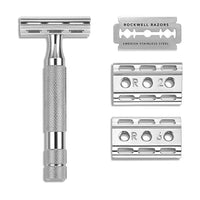 Rockwell 6C Safety Razor
$61.00
Improve your skin, eliminate plastic waste and save a fortune on shaving with the Rockwell 6C razor.
The six adjustable sizes that come with the Rockwell 6C ensure that anyone can perfect a close, comfortable shave.  This high-end razor combines revolutionary precision-engineered blade angles and patented adjustability to deliver an unparalleled shaving experience.
Handle length: 3.5 inches
Razor weight: approx. 100 gms
Available in two finishes - White Chrome or Gunmetal
Designed in Canada.